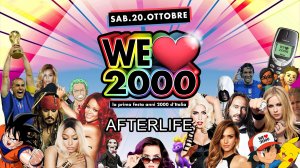 Sabato 20 Ottobre WE LOVE 2000® PERUGIA AT Afterlife live club La prima festa Anni 2000 d´Italia torna in città! #welove2000

IL TOUR INVERNALE 2018-19 PARTE CON IL BOTTO, in uno dei locali più bollenti d´ITALIA >>> AFTERLIVE (PERUGIA)

INGRESSO RIDOTTO 8 EURO IN PREVENDITA

INGRESSO INTERO 10 EURO IN CASSA
(salvo disponibilità)

LIVE Tiger Roll 2000 fu**in band

Mood ? ? ?
?AVATAR?NIKE SILVER?AIR MAX?POKEMON?STEP UP?HIGH SCHOOL MUSICAL?ONE PIECE? SARABANDA?GAMEBOY?JACK SPARROW?GIOSTRE?THE CLUB?MESSENGER?TRL?MONDIALI 2006?KILL BILL?MATRIX?LOST?GAMES OF THRONES?GRANDE FRATELLO?AMICI?UOMINI E DONNE?SEX AND THE CITY?VILLAGGIO VACANZE?WAKA WAKA?ASEREJE´?

--------------------------

E´ tempo di muovere i fianchi a tempo! Meglio Shakira o Beyoncè? Forse britney in tutina rossa! ? Rispolverate il my space! ? Ritornate ai tempi del Grande Fratello e dei Mondiali 2006! ? Di Harry Potter e i Pirati dei Caraibi, Sex And The City e Dawson Creek! Dei Blink e di Dragon Ball, di Lady Gaga e vai con le prove di Canto Urlato sugli Articolo e JAX, Gigi DaG e Sarabanda!? BENTORNATI NEI VOSTRI ANNI PIU´ FELICI! ?


Attività! ? ? ?

? NOKIA GIGANTE: Anno nuovo, mascotte nuova! Non potrai fare a meno di farci un selfie insieme!

? IL CONFESSIONALE ANNI 2000: C´è bisogno di spiegarlo? :D

? iWALL 2000: Manda i tuoi messaggi, pubblica su Instagram con il nostro hashtag #WELOVE2000, e vedrai tutto pubblicato in diretta sugli schermi del locale!

? KARAOKE: Canta a squaciagola insieme a noi, le migliori e, soprattutto, le peggiori canzoni degli anni 2000!

? IL RIGORE DI GROSSO: Prova l´emozione di diventare campione del mondo anche tu: calcia il tuo rigore, davanti alla curva, e vinci chupito we love 2000!

? WE LOVE 2000 WALL OF FAME: L´immancabile photoset degli anni 2000, con decine di nuovi gadget e maschere!

Cose che suoniamo ? ? ?

?CARTONI ANIMATI?PSY?ITALO DANCE?GABRY PONTE?MILEY CYRUS?ALCAZAR?TIGA?JUSTIN BIEBER?ARTICOLO 31?BENNY BENASSI?LADY GAGA?RIHANNA?GIGI D´AGOSTINO?HAIDUCII?BILLY MORE?BLACK EYED PEAS?BOB SINCLAR?BRITNEY SPEARS?BON JOVI?SEAN PAUL?BRUSCO?CAPAREZZA?TOMMY VEE?DJ MATRIX?NEK?BROTHERS?CHRISTIAN MARCHI?DAFT PUNK?DJ FRANCESCO?DAVID GUETTA?EMINEM?GWEN STEFANY?FABRI FIBRA?FEDDE LA GRAND?FRENCH AFFAIRS?PAP N SKAR?GERY HALLIWELL?INNA?KATY PERRY?MAX PEZZALI?KILYE MINOGUE?LAS KETCHUP?LUNA POP?MADONNA?NEGRAMARO?MIKA?OUTKAST?PIOTTA?PLANET FUNK?SAFRI DUO?BEYONCE´?SHAKIRA?SCISSORS SISTERS?PREZIOSO?SUBSONICA?VASCO ROSSI?LIGABUE?ZUCCHERO?VELVET?THE FRATELLIS?CHEMICAL BROTHERS?SKUNK ANANSIE?BLINK 182?NEFFA?DARI?FINLEY & More!!!


Infoline:
? Mob & WhatsAp 3887823821
E-mail info@welove2000.eu – info@anni2000.com

http://www.welove2000.eu/
https://www.facebook.com/WeLove2000
http://www.instagram.com/welove2000

WE LOVE 2000® è un marchio registrato. Se ne diffida qualsiasi utilizzo non debitamente autorizzato.